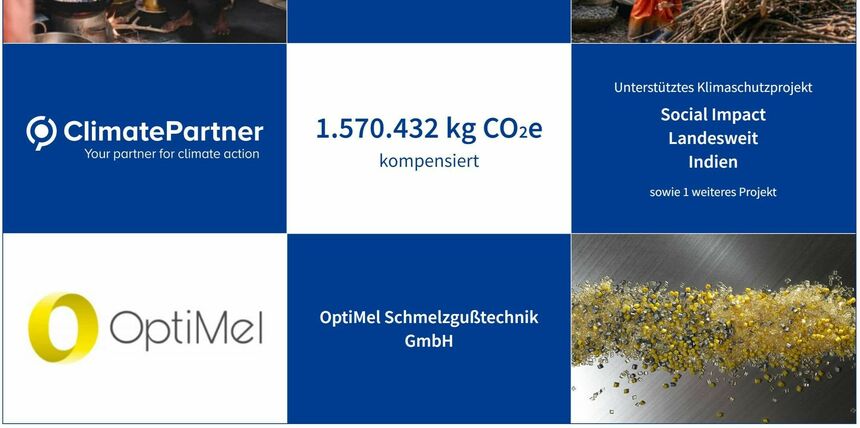 Sustainability
OptiMel supplies climate-neutral materials
01.Nov 2021
Offsetting CO² emissions plays an important role in climate protection. Germany is to be climate-neutral by 2045 and Europe by 2050.
For these goals, it is not enough to rely on political action. To achieve them, everyone must contribute. Especially the companies in the industrially strong state of NRW play a decisive role here.
We have been a climate-neutral company since 2019 and have again drawn up a CO² balance for 2020, on the basis of which we identify potential savings and compensate for the remaining emissions. Here, an even more detailed database was used for analysis in order to be able to make the most precise evaluation possible. Savings potentials were implemented for 2020 and additionally compensated by a closer look at other influencing factors.
The logical next step was to also work on the climate neutrality of our products.
Since 01.06.2021, we have now been able to offer Henkel's Technomelt moulding materials sold by us in a climate-neutral manner.
Henkel itself has been committed to sustainability for decades. Sustainability is also part of the strategic framework for holistic growth with which Henkel aims to be successful in the next decade. Along the entire value chain and in cooperation with its partners, Henkel aims to become climate positive by 2040. To achieve this, the company is setting far-reaching goals, such as obtaining 100% electricity from renewable sources by 2030 and, together with customers, consumers and suppliers, saving 100 million tons of CO2 from 2016 to 2025. If you would like to learn more about Henkel's sustainability initiatives and goals, see here: Sustainability report (henkel.de).
With its climate-neutral action, OptiMel makes a further contribution to the supply chain.
Joint commitment is multiplied. It protects our climate and our environment. In the end, we all benefit.
CO² balances for our machines and tools are already in progress and we hope that we will soon be able to offer further added value.